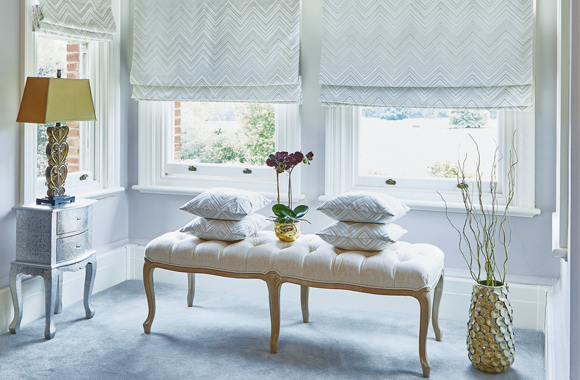 Finding the right blackout roman blinds for your interior can be a tricky and often daunting task. Maybe you're a new home owner, eager to create a personal style? Or maybe an established home owner looking to revive and refresh your interior? A final decision can be hard to reach on the style for your blinds.
SLX Roman Blinds Collection
The SLX Roman Blinds Collection, in exclusive association with Prestigious Textiles, provides an exciting design led range for all interiors. Whether it's a floral bathroom blind or plain blackout roman blinds for your bedroom – SLX are here to assist you every step of the way. In this collection we've created colour spectrum's to suit every taste bud, satisfy each curiosity and inspire seasoned designers. With over 66 design and 176 colour options, did you know we also make custom made curtains to suit your chosen roman blinds? The interior design possibilities are simply endless…
Contemporary Roman Blinds
Roman Blinds have become a fashionable choice for window design due to their luxurious draping and tactile qualities. The geometric pattern of Apache Oyster and elegant vertical stripes seen in Capulet Ivory provide a stunning neutral starting point for living rooms and kitchens. Geometric designs can give your room a modern and contemporary feel. A subtle hint of metallic, as seen in Apache Oyster, will keep the room light and bright too. Both fabrics are elegant choices and allow for a stronger colour on the walls or furniture – a balance that can be hard to master.
If you'd like to introduce some floral design go for a modern and abstract print such as Silver Birch Shadow or Tuileries Rose Quartz.  These fabrics provide two very clear fashionable colour palettes. Top Tip: blackout lining will keep the colour quality and design impressive from inside with no sneaky sunshine coming through!
Traditional Roman Blinds
If you have a traditional interior design then Roman Blinds are an absolute must. They
reinforce the idea of an interior with heritage – a style full of warmth and luxury. To get this bespoke feel try a unique fabric such as Bourton Breeze or Glade Aqua. Both are rich in homely embroidery and natural colour tones, complimented by soft organic patterns. Or add some life to a bathroom or en-suite by using Linley Chambray or Langford Apricot for exciting colour options.
Should I use Blackout Roman Blinds Lining?
Once you've selected your blinds fabric, lining choice is the next step. Some linings will give a soft glow of morning or early evening sunlight which can suit a living room or kitchen. Opting for a blackout roman blind is the ideal choice for bedroom blinds. This lining will provide an extra thermal quality and, most importantly,  might prevent the little kiddies thinking it's time to get up on a Sunday morning….at 5am!