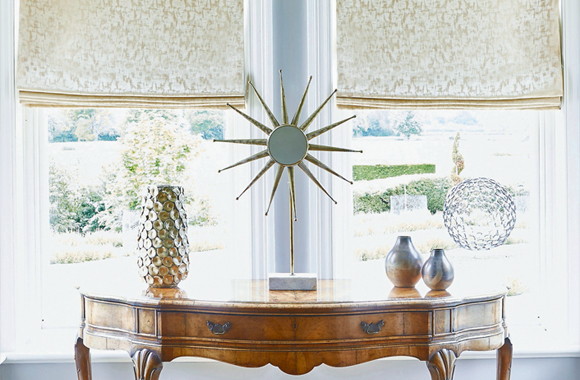 Is your living room in need of a makeover? Here at PT Blinds we have the complete collection to make sure you find the right window décor to suit your home interior. With so many fabrics and woods to choose from there's something for all tastes and styles. First of all it's time to get inspired.
Living Room Inspiration
When deciding on the right blinds for your living room always consider what mood you'd like to establish. Pastels, rich florals, traditional woods, contemporary sheers…the list of blind options is endless, and sometimes overwhelming. The most important priority is creating a comfortable and relaxing space that suits your family needs. Keep it calm and comforting with soft neutrals or splash out with a creative feel using bold patterns and geometrics.
If contemporary interiors are what you're after then think along the lines of Open Linen roller blinds complimented by Java Platinum Ready Made Curtains. Very fashionable! Or maybe a traditional look is more in keeping with your living room – try our custom made Roman Blinds collection with bespoke blinds and curtains for every taste and room size. With so many ideas to chooses from lets see how PT Blinds can help…
Roller Blinds Ideas
If your living room is facing onto a road or pathway then keeping prying eyes out is probably your main reason for blinds. Our  Evolution Collection offers a range of base cloths for light filtering variation, from PVC to Open Linen and many also feature Ultrafresh* and Pollergen coatings. High end silks such as Capulet Ivory and Rosalie Rosehip are a great choice for Living Room Blinds as they provide a high end finish. Or maybe a modern yet traditional roller blind is what you had in mind – check out the likes of Bosworth Chartreuse or Moonseed Cranberry. Don't forget, you can add to the décor using blinds accessories such as varying scallops, pulls and braids to ensure it coordinates with the rest of your room.
PT Blinds Fauxwood and Basswood Blinds
Wood Blinds can introduce a truly organic feel to your living room. The Basswood collection has slat sizes of 25mm, 35mm, 50mm and 63mm or Fauxwood in 50mm slat sizes only. These can be accessorised with tapes to add a tactile quality. It can be a good idea to opt for grain in the wood to add to the extra homely feel. For a neutral approach try our light Limestone fauxwood or get the contemporary look with Sterling or Frost. The Sterling is a light grey wood blind and you can opt for a matching or contrasting tape finishes. There's so many opportunities to personalise.
Custom Roman Blinds and Curtains
This collection will allow you to choose Roman Blinds and compliment with custom made window curtains from the same colour palette. Every interior designers dream! From the neutral tones of Bourton Breeze to show stopping fabrics like Emotion Calico and Tuileries Rose Quartz there's something here for everyone. You can choose different linings to allow light in or opt for a blackout, safeguarding your movie gatherings on bright summer nights. Once you've chosen your colour tone we have 66 designs to set your taste buds a light.
Your loving room blinds have so much design potential. All PT Blinds are custom made to your exact measurements to give you that extra special finish. Find your nearest PT Blinds retailer today and choose the right blind for your living room!