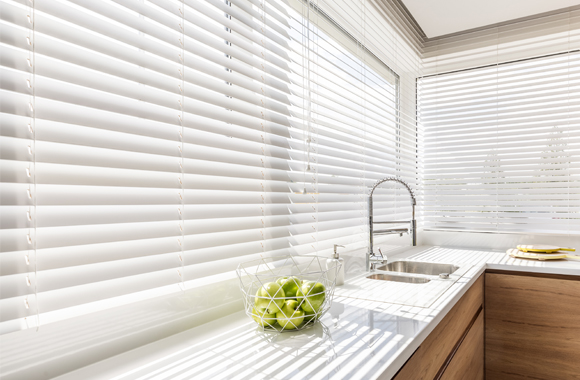 Wood slat venetian blinds are as popular as ever and our new SLX Basswood Collection
just got even bigger and better with exciting new colours and finishes in four popular slat sizes.
So what's exciting about the NEW collection?
So much choice! Our Design Team focused on trending interior design colours for the year ahead and exceeded expectations with the selection of 8 new slat colours and finishes, not to mention an impressive total of 21 tapes to coordinate and contrast. For light and bright interiors there's a wide range of options in grey, white and natural. On the other hand, if its a stronger darker shade of wood slat you're after then the likes of Ebony, Carbon and Walnut are also featured.
The new slat colours include Oxford, Portland, Urban, Dolmen, Driftwood, Moleskin, Sun – Bleached and Carbon. Oxford, Portland, Urban and Dolmen make up a new selection of painted finishes. In contrast we have Driftwood, Moleskin, Sun – Bleached and Carbon which are a new spectrum of stained prints. These beautiful colours are a guaranteed winner for the most impressive interiors reaching a maximum drop of 240cm and maximum width of 240cm.
What slat sizes feature in the NEW SLX Basswood Collection?

25mm Slat Size – available in 4 Colours & Finishes
35mm Slat Size – available in 14 Colours & Finishes
50mm Slat Size – available in 18 Colours & Finishes
63mm Slat Size – available in 2 Colours
What colour options are there for Taped Basswood Blinds?
17 Plain Colours & 4 Striped Colours | 3 Tape Widths – 19mm, 25mm & 38mm
We have a recommended list of coordinating tapes in the collection which you'll find with your local SLX Retailer. If a taped wood blind isn't what your after, don't forget our Basswood blinds have the option of a string finish too. To find out more take a scroll though the gallery for some inspiration or view our samples to see what wood slat works for you and your interior. With so much choice – this new collection is designed and created for you and your home!