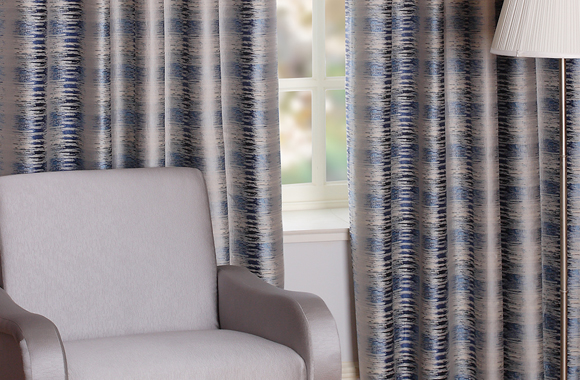 Contemporary Curtains can sometimes be a challenging find but we're delighted to announce the launch of FIVE NEW Curtain Designs in our PT Blinds Ready Made Curtains Collection with a total of 11 colourways. Most notably, we're introducing new semi plains and rich jacquard's, with beautiful colourways to compliment all interiors.
Meadow
A beautiful Ready Made Curtain, our new Meadow design showcases a classic floral arrangement with organic curves and a spiralling leaf pattern. Available in two colourways, Chrome and Flax, the subtle tones on this contemporary curtain design, with a traditional twist, ensures a trusted favourite for many interiors. Available in size 90" x 90".
Mosaic
With Chrome and Parchment colour options our PT Blinds Mosaic Ready Made Curtain portrays a delicate rippling repeat pattern with small hints of light metallic reflections. As a result, the circular motion provides a calm and relaxing mood as each suggested circle grows outwards. Mosaic is available in size 90" x 90".
Mystique
A timeless semi plain the new Mystique design will look glamorous in any interior. The shimmering qualities guarantee a lightness and elegance that's suited so well to living rooms and bedrooms. Available in Graphite and Vellum colourways in size 90" x 90".
Reflections
A contemporary and stylish design our NEW Reflections Ready Made Curtain is available in three stunning colourways; Cobalt, Flax and Mimosa. With rippling horizontal lines comprising of colour flashed on a varied sterling backdrop this is sure to be a show stopping feature in any home. These contemporary curtains have three sizes available; 66" x 90", 90" x 90" and 132" x 90".
Riga
A versatile plain the new PT Blinds Riga Ready Made Curtain is available in two colour options; Hessian and Natural. Full of texture it exudes comfort and familiarity while both colourways make this a great option for bedrooms and neutral living spaces.
Check out our full Gallery of designs to view all our contemporary curtains for your home. If a particular design isn't available in your size ask your local PT Blinds Ready Made Curtain retailer today on how your can avail of our alterations service at a small extra cost.