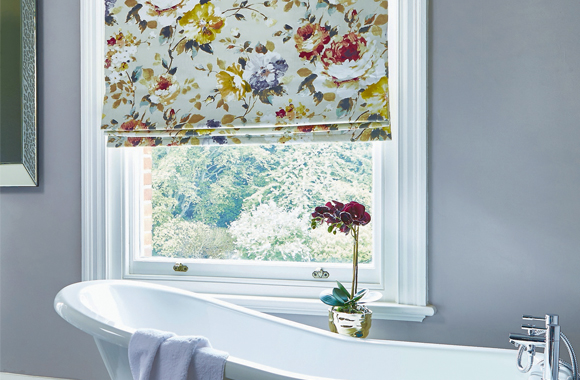 Floral Roman Blinds will forever be a trusted interior design choice in homes. From bold prints to classic colour tones our love for floral roman blinds has never subsided. They look great in living rooms, bedrooms, kitchens…well, every room really. Take a look at our extensive range of fabrics today and see what works for you.
Floral Styles
As with all SLX Blinds, floral roman blinds can be as traditional or contemporary as you
like. If you're looking for a traditional pattern with a vibrant splash of colour then visit our Langford, Carlotta and Tuileries fabrics. These designs are true classics with a real sense of warmth and homeliness.
Some prefer a more subtle and contemporary style for their Roman Blinds. In that case we'd recommend Hydrangea, Moonseed or Sonara. Their modern colour tone options of Praline, Oyster and Sterling, married with their simple print motif are very much on trend for Roman Blinds, and ideal for fashion conscious interior styles. Another benefit of these colourways is that even if you change the colour of your walls and soft furnishings – they'll still look great!
The likes of Linley and Silver Birch are a great choice if you're after a slightly more abstract floral Roman Blind. While Linley is a very dense pattern the colours are vibrant and complimenting. Meanwhile, our Prestigious Textiles exclusive fabric, Silver Birch, which comes in Shadow and Willow colour tones, is perfect for any modern interior – ideal homes here we come. If you're still stuck on finding the right look then visit our gallery of some inspiration.
Here's a few tips to consider…
Track or Headrail: At SLX we use the Evans BSXL Track with Child Safety 'Pop-Out' Internal Breakaway Mechanism.
Control: Would it suit your room to have it on the right or left?
Continuous Chain: Chrome, White or Brass
Lining Options: PC99 Twill Weave Sateen – Ivory, Thermal Lining – Ivory, DB1 Deluxe Sateen Lining (Ivory or White), DB4 Silk Black Out Lining (Ivory or White), Bonded Interlining – Ivory, Bonded B/O Interlining – Ivory.
Size Restrictions:

Minimum Width: 400mm                              Maximum Width:  2500mm
Minimum Drop: 400mm                                Maximum Drop: 2500mm
And don't forget! If you order multiple blinds to fit side by side, or for display in the same room, please ensure you specify this when you place the order with your retailer. All SLX Roman Blinds are pattern matched at the top and centralised.