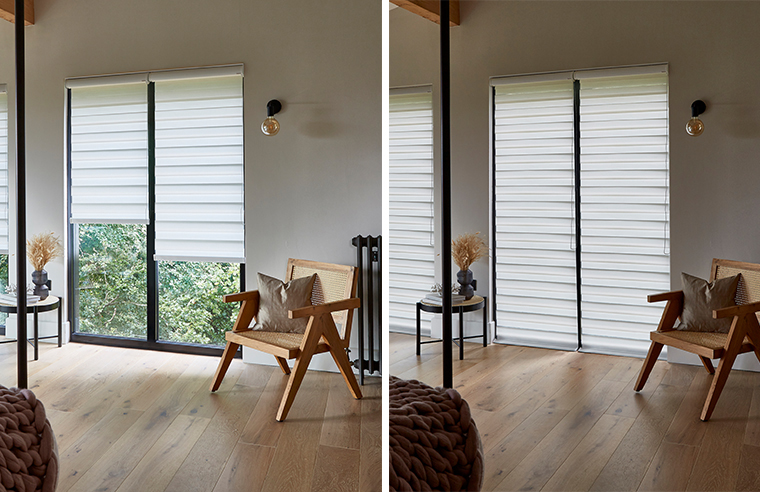 Prefer form over function, or are you needing a highly effective solution to light and heat control? PT Blinds have got your window covered.
Windows play a significant role in a room, both as a focal point and a source of heat loss and lighting levels in your space. So, it is crucial that your window dressing effectively meets your needs. Whether you want your window space to shine as a focal point or block out the outside world, take a look at our portfolio of window dressings and discover the perfect blind for your space.
Make a Statement with a Vibrant Roman or Roller Blind
Frame your windows with on-trend, contemporary designs for an eye-catching focal point. Select a blind that showcases key colourways featured within your décor, opting for a maximalist print to ensure your window truly steals the show. Alternatively, select a plain in a coordinating shade for a subtler, minimalist approach.
Available in a plethora of on-trend designs exclusively selected from the PT range, Our Portfolio roller blinds and Roman blinds are ready to inspire and transform any room.
Snuggle Up Inside with the Perfect Quality or Lining
Your blinds can be especially practical during the colder months, trapping heat indoors and preventing it from escaping through your windows. By pairing with an effective lining or selecting an appropriate quality, blinds can prove invaluable in increasing the energy efficiency of your home.
As well as daylight and PVC options, our roller blinds are also available in a blackout finish for a stylish and practical window solution. Alternatively, if you're considering a Roman blind, our selection of plain blackout finishes, as well as bonded linings and thermal interlinings, presents a lining choice and finish for all interiors.
Benefit from Added Light and Heat Control with Venetian Blinds
The highly adjustable slats of Venetian blinds mean they are ideal for regulating light and heating levels in a range of spaces. Position the slats downwards to banish unwanted daylight and ensure heat stays in, or out, of your room. Alternatively, tilt your slats upwards or pull the blind up completely to cast in sunlight and warm your space up in the process.
Look to the natural grain of our Basswood Blinds for welcome warmth, available in a range of 18 shades for a variety of spaces. For a truly bespoke style, look to our Gallery Collection of custom made Venetians, an inspiring choice of bespoke wood blinds tailored exactly to your space and needs. Suitable for higher moisture areas, our Faux Wood Blinds emulate the contemporary elegance of our real wood Venetians, with the added benefit of PVC qualities for increased durability.
Pair your Curtains with Blinds for the Perfect Finishing Touch
For an added touch of luxury along with increased light, heat, and privacy control in your home, why not consider pairing your blind with curtains?
Curtains can be truly complementary of your blind, and when placed correctly, can seal any gaps between your window and blind, effectively keeping heat in, or out. Keep your eyes peeled for the launch of our Library Collection of Custom Made Curtains and Venetians, coming very soon!
Enjoy the Welcome Practicality of Motorisation
As our homes are becoming increasingly digital and autonomous, motorised blinds have subsequently been rising in popularity.
Wirelessly control your blinds from the comfort of your sofa, positioning them optimally to effectively control lighting levels in your space. This also allows a blind to be installed in awkward, hard-to-reach window spaces. Additionally, with no hanging cords or strings exposed, this makes them a safer option for homes with children and pets.
Our Manhattan day and night blinds and Portfolio Collection of roller blinds are both upgradable to motorisation via a remote control for effortless practicality.
Click here to discover our portfolio of blinds in full, or find your nearest Stockist
Discover our latest Pinterest board for more inspiration