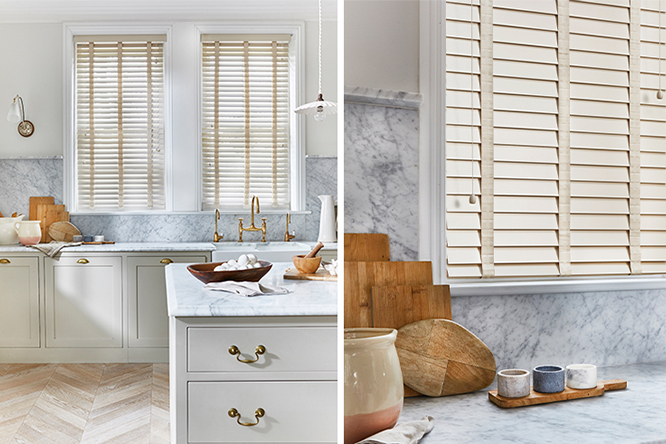 Faced with high levels of heat, humidity, and splashes, kitchen blinds are usually subjected to higher levels of wear and tear during their lifetime. You therefore need a window dressing that will remain not only contemporary, but also blemish free for years to come.
PT Blinds have collated some of the best blinds for kitchens dependent on multiple factors of your space. Whether you have a large kitchen and want a naturally inviting finish, or a durable blind for a compact space, read on and discover the perfect kitchen window dressing.
PVC Roller Blinds
Introduce your kitchen to functional fashion with a PVC roller blind. Their highly water-resistant properties are suited to more confined, high moisture areas. Tackle any splashes or spills on the blind with ease, thanks to a simple, wipe-clean finish. Plus, their single piece of fabric is ideal for blocking out bright sunlight, or providing privacy if your window is exposed to frequent passers-by, for example.
Dress your windows to impress with our Portfolio Collection of roller blinds. Striking the perfect balance between style and versatility, the collection's stunning patterned designs in our PVC quality are especially hard wearing, perfect for kitchen spaces. Alternatively, opt for minimalism and choose from our 50 daylight plains or 50 blackout plains for a subtle finish.
Venetian Blinds
Elegant, timeless, and contemporary, Venetian blinds remain a popular choice for kitchens. If your kitchen is more spacious and therefore benefits from lower levels of moisture, real wood Venetian blinds are perfect for creating an elegant focal point. Be sure to wipe down carefully with a damp cloth dipped in gentle soap, to avoid fading or warping. Alternatively, look to faux wood blinds for a hardwearing window dressing protected against harsher elements found in the kitchen. Their PVC finish means they are especially resistant against moisture and heat, and can be regularly wiped clean in order to keep them looking their best.
Invite a welcome warmth into your kitchen with the natural grain of our Basswood blinds. With a choice of 18 slat shades and 21 easy-to-use tape options, we have a slat size and colour to suit a range of spaces. Alternatively, opt for our Gallery Collection of custom made Venetians for bespoke elegance tailored to your exact needs.
Simulating the look of real wood, our Faux Wood blinds combine versatility, durability, and elegance for a window dressing that stands the test of time. Their water-resistant slats provide a simple, wipe clean finish for easy maintenance, and are highly adjustable for optimum light control and privacy.
Roman Blinds
Roman blinds are also an option for lower moisture kitchens, and can add the perfect pop of character to your kitchen with a vibrant print or punchy plain. Benefit from increased light, heat, and privacy control, thanks to their thicker material and a multitude of linings available.
Invite the on-trend fabrics of Prestigious Textiles into your kitchen with our Roman Blinds. PT Blinds have a fabric and lining choice for all kitchen areas, with our thermal lining and bonded interlinings ideal for light control and added insulation.
Day and Night Blinds
Day and night blinds are also ideal for kitchens prone to lower levels of moisture, and provide infinite control over lighting levels in your space. Welcome in plenty of natural light whilst regulating harsh sunlight. Day and night blinds also present a layer of privacy, which is especially useful if your kitchen windows face neighbouring houses or a busy street, for example.
Available in 46 diverse options, our Manhattan Collection of day and night blinds offers a shade for every space, perfectly complementing your kitchen with functional and contemporary elegance.
Discover our latest Pinterest board for more inspiration