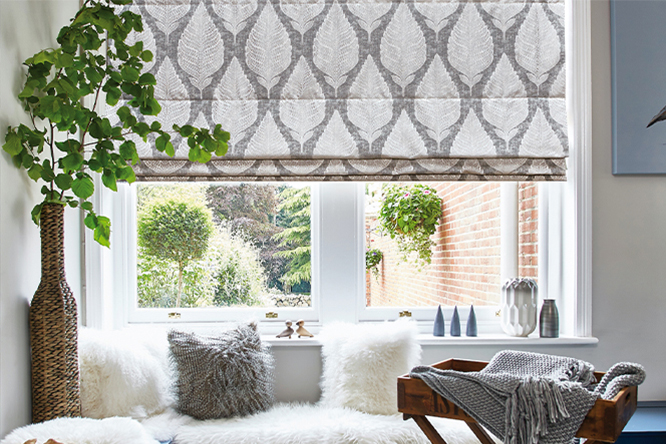 With the season for entertaining just around the corner, overnight stays will soon be returning. Making sure your spare bedroom is accommodating to visitors is therefore essential, and this starts with your window dressings.
PT Blinds are here to give you our expert advice on the best window treatments for spare bedrooms. Give your guests the hotel treatment and ensure their stay is restful and refreshing. If you're deciding on a suitable blind for your guest bedroom, then discover the perfect window dressing for your space below.
Turn Down the Lights with our Portfolio Collection
Making sure your guests get a good night's sleep is heavily dependent on lighting levels in the room. Roller blinds are ideal for spaces used predominantly for rest, thanks to their single piece of fabric that effectively regulates daylight entering the room. Enjoy the convenience of easy upkeep too; their singular piece of fabric makes them easier to clean than the multiple slats of Venetian blinds, for example.
Available in a blackout quality, our Portfolio Collection of roller blinds is perfect for plunging your guest room into darkness and allowing a good's night's sleep. Their light-omitting, single piece of fabric is highly effective at blocking out daylight, ensuring your guests remain undisturbed whilst also enjoying privacy from the outside world.
Let your Guests Take Control with Versatile Venetians
Provide your guests with optimal light and heat control and opt for a Venetian blind. Whether they want to snuggle up and shut out the outside world or make the most of the beaming winter sun, the choice is theirs. The thick slats of Venetian blinds trap a layer of air between the blind and the window, protecting your guests from the harsh winter chill.
From our recently updated collection of Faux Wood Blinds to our Basswood Blinds and Custom Made Venetians, we're sure to have a slat for every space. Whether it's the welcome warmth of real wood or stylish durability of faux wood you're after, be inspired by our comprehensive range of Venetian blinds.
Keep it Cosy with our Warming Roman Blinds
Also finished in a single piece of fabric, Roman blinds share the same benefits of roller blinds in terms of effective protection from daylight. Additionally, the thicker material of Roman blinds will keep the room warm and your guests cosy and cocooned. Opt for our thermal interlining or one of our bonded interlinings and keep the cold out, keeping your guests comfortable.
Tailored to suit your style and personality, our Roman blinds are custom made to your exact needs. Choose from a selection of stunning Prestigious Textiles designs and create an unforgettably maximalist space for your guests with one of our stunning prints or sophisticated jacquards. Alternatively, opt for something to everybody's taste and finish your window in a versatile plain that makes itself at home in a variety of décor schemes.
Click here to discover our portfolio of contemporary window dressings in full, or find your nearest Stockist
Discover our latest Pinterest board for more inspiration