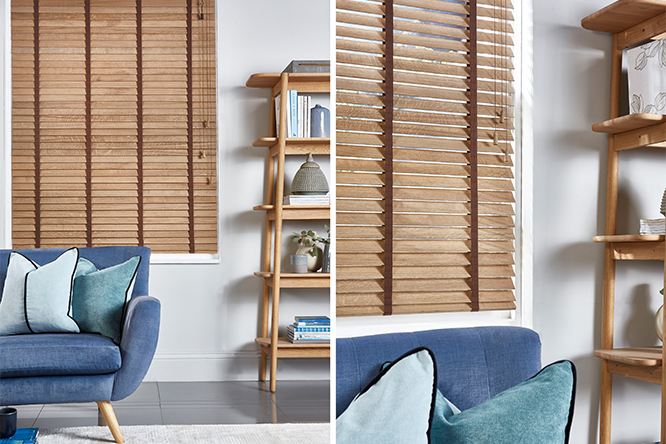 With winter drawing closer and many of us more conscious than ever about the efficiency of our homes, keeping the heat in is essential.
Here at PT Blinds, we have compiled some of the best window treatments for banishing the cold and keeping your spaces warm and cosy. With 10% of heat in our homes lost through our windows, our window dressings play a huge role in reducing this figure. Whether it's the welcome warmth of our Basswood Blinds or interlined Roman Blinds, beat the winter chill with our range of bespoke window dressings.
Roman Blinds
Roman blinds are an especially effective insulator if you're looking to keep the heat in, thanks to their full window coverage when closed. Their single piece of fabric prohibits cold air from entering the room, as well as warm air escaping from the inside. For maximum effect, pair your Roman blind with an effective bonded interlining that will help you stay snug during the colder months.
Introduce Prestigious Textiles' on-trend fabrics into your home with our collection of Roman Blinds, ranging from stunning prints to versatile plains. With a range of linings to choose from, our Roman Blinds are perfect for staying snug in a cocooning atmosphere.
Venetian Blinds
The thick slats of Venetian blinds mean they're highly effective at keeping heat inside the home where it belongs. Our Basswood, Fauxwood, and Gallery Collection of blinds are just as insulating as one another, and are also ideal for reducing drafts from poorly insulated windows. Be sure to position slats downwards to ensure your Venetians provide optimal protection from the cold. Like all blinds, we recommend leaving them open to cast in sunlight, and closing them as daylight draws to a close.
Keep your space cosy in the coming colder months with our contemporary Basswood Collection or highly durable Fauxwood Blinds. Alternatively, opt for our Gallery Collection of Custom Made Venetians for bespoke elegance tailored to you.
Roller Blinds
Roller blinds are also insulating during the colder months due to their single piece of fabric, similar to Roman blinds. Roller blinds in blackout qualities are especially effective thanks to their thicker material. Our Portfolio Collection of Roller Blinds are offered in up to 50 on-trend designs, encompassing finishes for any window space. Alternatively, choose from 50 daylight plains or 50 blackout plains for a subtle and contemporary look that helps keep the heat in.
Pairing Blinds with Curtains
When paired with blinds, curtains provide another layer of protection against the cold, whilst also adding visual warmth to a room. Ensure your curtains are both floor-length and wider than the window, acting as an effective barrier against escaping heat. To truly avoid the chill, go one step further and opt for curtains with a thermal lining for added warmth and cosiness. However, avoid placing curtains over any window spaces with a radiator below, as these could divert heat up towards the window and out of the room.
Complementing our bespoke blinds with over 170 inspiring designs, our Custom Made Curtains are ready to introduce contemporary elegance to a plethora of window spaces.
Discover our latest Pinterest board for more inspiration