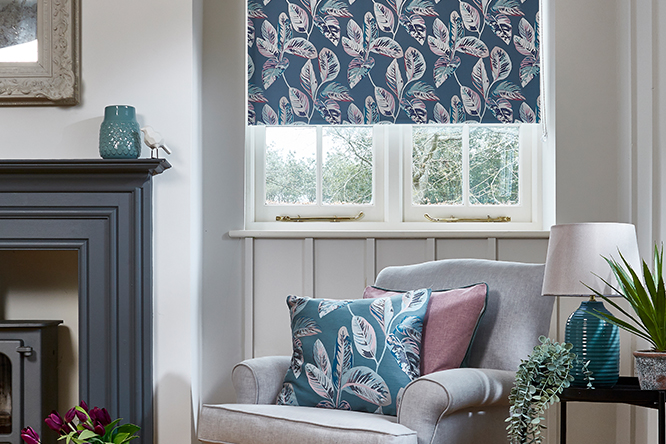 PT Blinds are delighted to showcase the latest addition to our range of bespoke window dressings, Portfolio.
Our collection of contemporary roller blinds offer something for every window and living space, and are ready to inspire beautiful décor schemes. Discover why the Portfolio Collection is the perfect choice of window dressing for you.
A Design for Every Living Space
The Portfolio Collection is offered in 50 on-trend designs exclusively selected from the PT range, as well as 50 daylight plains and 50 blackout plains for a subtler, yet still striking finish. Whether you're looking for painterly botanical scenes, towering bamboo stalks or striking geometric designs, Portfolio is sure to have a design that complements your décor scheme.
Perfect for Any Space
The Portfolio Collection is available in either a daylight, blackout, or PVC quality, making our roller blinds ideal for a number of spaces within the home. Their highly durable polyester finish means they're ideal for rooms in which your window dressings have to work especially harder, such as kitchens and bathrooms. Both these areas are prone to higher levels of moisture, with the water-resistant qualities of our polyester roller blinds making them the perfect match.
Opt for our PVC finish for an inherently waterproof window dressing that stands the test of time, with its wipe-clean finish allowing you to keep your blind in top condition for years to come. Whilst our daylight plains allow for optimum natural light, choose our blackout quality and enjoy the perfect balance of increased light control and privacy at all times of the day.
Highly Customisable
Our Portfolio roller blinds are operated using a standard chain sidewinder finished in white, with the choice to upgrade to a chrome finish. If you're looking for increased ease of use and effortless practicality, there is also the option to upgrade to motorisation via a remote control.
Our Portfolio Collection of roller blinds are customisable exactly to your taste, with the choice of either standard or reverse roll. There is also the option to upgrade to a closed cassette, available in six stylish shades.
Discover our latest Pinterest board for more inspiration