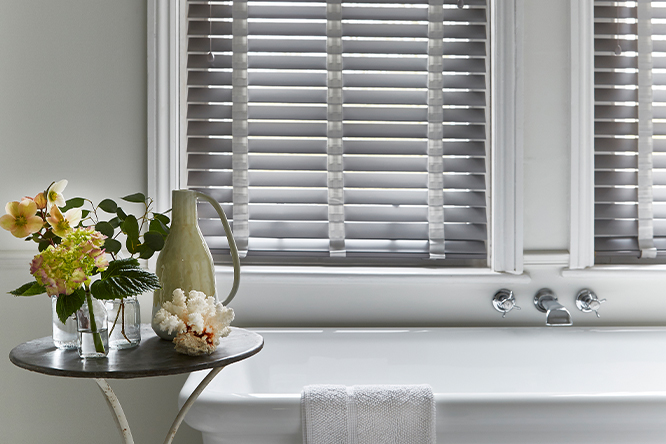 Being up against high levels of humidity and moisture means your bathroom blinds have to work especially hard. It is crucial, therefore, that the right blind is picked for your bathroom space.
Here at PT Blinds, we have compiled some of the best blinds for bathrooms depending on several key factors, including room size, ventilation, and the proximity of windows to water for example.
Faux Wood Blinds
Both sophisticated and practical, Faux Wood Blinds effortlessly withstand high levels of moisture in bathrooms. Their water-resistant properties mean you never need to worry about warping or the development of mould and mildew, and are therefore suited to bathrooms prone to intense humidity and moisture. Their simple, wipe-clean finish facilitates easier maintenance, whilst their adjustable slats not only allow you to maintain an optimum level of light, but also ensure the view from outside remains obscured.
PT Blinds' Faux Wood Blinds are presented in 13 easy-to-use colourways and 21 ambient tape options, with their increased moisture resistance and PVC properties offering a versatile, durable, and practical choice of window treatment for your bathroom.
Real Wood Venetian Blinds
Providing an elegant and timeless finish in any space, Venetian Blinds composed of real wood can be a viable option if your bathroom is spacious, well-ventilated, and equipped with an extractor fan. It is also crucial that your windows are a reasonable distance from potentially being splashed; real wood is less forgiving of moisture compared to faux wood. Because of their lack of water resistance, regular cleaning is essential to prevent the build-up of mould and mildew.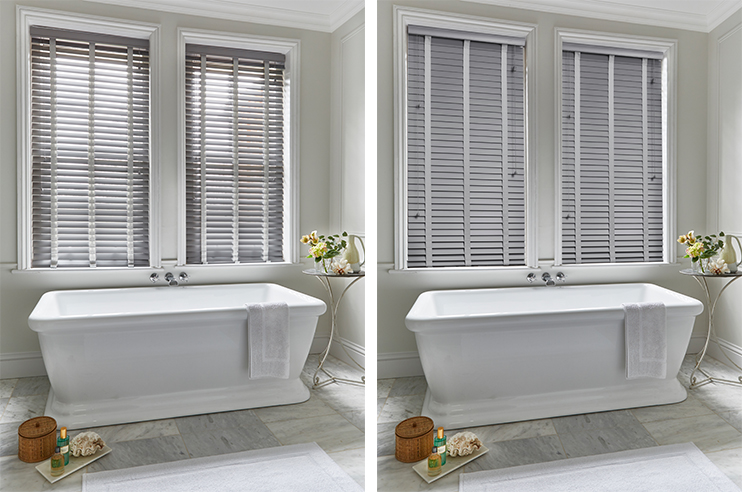 Whether it's the welcome warmth of our Basswood Collection or the bespoke elegance of our Gallery Collection of custom made Venetians, PT Blinds' range of real wood Venetian blinds have been designed for a range of settings including bathrooms.
Roller Blinds
Offering the perfect blend of durability, privacy, and natural light, roller blinds are particularly suited to bathrooms. Standard polyester roller blinds are already ideal for steamy, humid environments thanks to their water-resistant properties, whilst the inherently waterproof finish of PVC roller blinds makes them perfect for wetter, more confined bathrooms.
PVC roller blinds also offer ease of maintenance with a simple wipe-clean finish, allowing you to keep your blind in top condition for years to come. Alternatively, opt for roller blinds in blackout qualities and benefit from increased light control and privacy at all times of the day.
A new addition to the PT Blinds range of bespoke window treatments, the Portfolio Collection of roller blinds is ready to inspire and transform any room.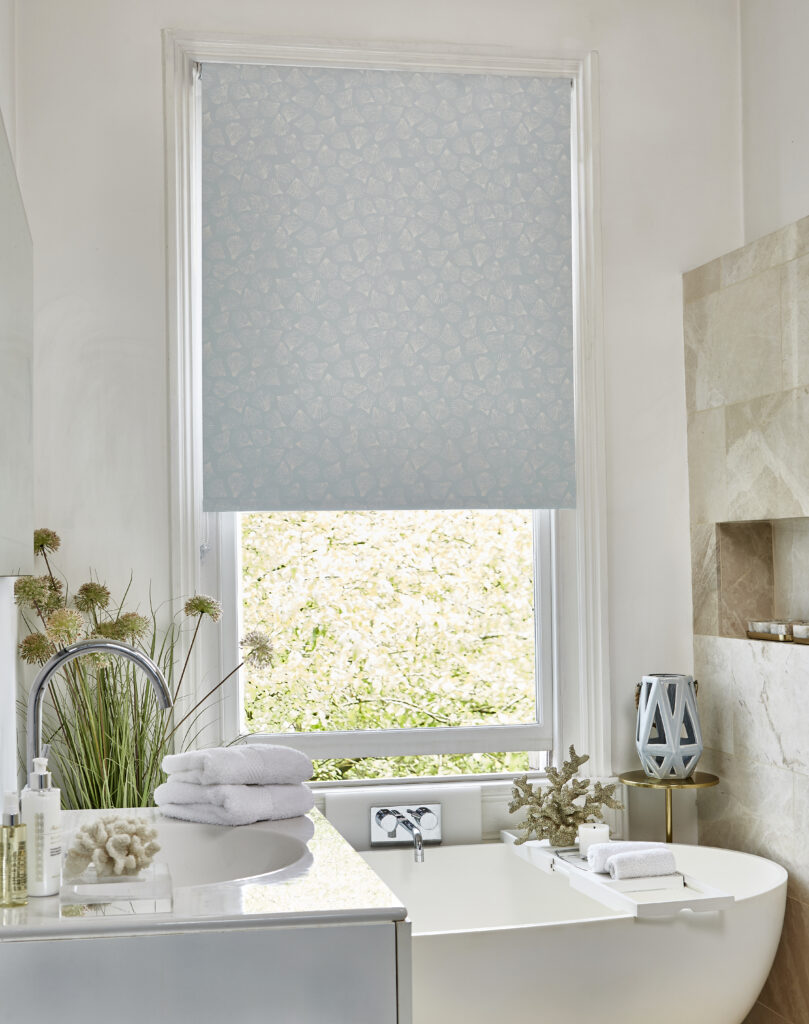 Portfolio will be available in 50 on-trend designs, 50 daylight plains and 50 blackout plains, suited to a range of interior settings. Made from 100% polyester with the option of a PVC quality, the collection is ready to stand the test of time.
Discover our latest Pinterest board for more inspiration