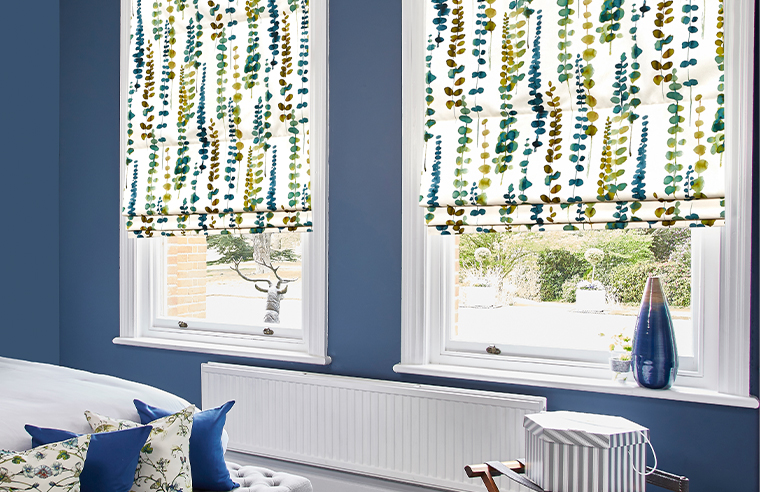 Being surrounded by blues and greens in the natural world, it's easy to feel inspired by these two calming, versatile hues when decorating our homes.
Their connection to the outdoors establishes these colourways as inherently restorative, enhancing our overall sense of wellbeing. Blue and green have remained enduringly on-trend in the world of interiors, and look especially striking when presented within window spaces. So, read on for our top tips on incorporating these two lively hues into your next décor scheme, for joyful spaces with nature as the centrepiece.
Mix Lighter and Darker Hues of Blue and Green for a Balanced Look
Contrary to popular belief, blue and green should, in fact, be seen! With the right approach, this age-old rule can be broken, and can create beautiful results.
Opt for shades that complement each other rather than clash, remembering balance is key. For tranquillity and calm, select cooler shades, whilst bolder shades create punchier, energising schemes. Why not balance out a richer hue within your blind with softer, lighter shades upon complementary curtains? Opt for a gentle navy upon your blind paired with impactful greens or characterful prints upon curtains, matching with smaller soft furnishings such as scatter cushions.
Frame Outdoor Spaces with Vibrant Green Designs
The verdant tones of green means they act as an ideal extension of your outdoor spaces, so frame sprawling outdoor views with vibrant depictions of striking natural elements.
Towering bamboo stalks, sprawling palm leaves, and painterly floral scenes are all perfect for inviting in the calming presence of nature, and effortlessly encapsulate the trend for green in interiors. Switch it up and add further interest with floral designs in palettes of delicate hues. Accessorise with potted plants featured within your blind for a truly harmonious, healing space.
Create a Calming Oasis with Relaxing Blue Hues
Associated with tranquil waters, clear skies, and tropical flora, blue is inherently calming and uplifting when used in the home.
Look to distant shores for inspiration and opt for serene blue hues within your window dressing. Quintessentially Mediterranean prints inspired by white-washed Aegean shores are perfect for adding a flash of colour to your window space, creating an uplifting Summer feel. Coordinate with accent pieces such as vases, lamps, or plant pots in cobalt hues. Round off the look with small soft furnishings such as scatter cushions in cohesively rustic, Aegean designs, truly paying homage to the natural beauty of Grecian islands.
Soften Blue and Green Combinations with Pattern
Combining blue and green can be daunting, and may look especially heavy if using more saturated shades. Instead, go for pattern in your blind or curtain that features both colourways, softening the intensity of the colour combination and preventing any clashes.
Opt for a conversational Roman blind depicting painterly florals or towering greenery in tropical blue and green hues. Instead, why not create unison in your blue and green scheme and make a maximalist statement with striking floor-length curtains, depicting prowling tigers nestled upon sprawling palm leaves? Create the ultimate characterful space and set the perfect backdrop to vibrant pattern, by finishing your wall in a hue featured within your blind.
Use Blues or Greens as Neutrals
The versatility of blues and greens allow them to be used as neutrals in your window space for subtle interest, easily adapting to a plethora of décor styles.
Why not opt for a blind in a pared back, delicate green or blue plain? Plains are ideal for injecting a snippet of colourful character into your space, whilst conveying the restorative nature of blue and green palettes. This also prevents your space from becoming too overwhelming, and allows you to present more characterful pops of colour and design through smaller furnishings within your space, such as scatter cushions, throws, or matching accessories.
Visit our product search to find the perfect blue or green finish for you, or locate your nearest Stockist here
Discover our latest Pinterest board for more inspiration