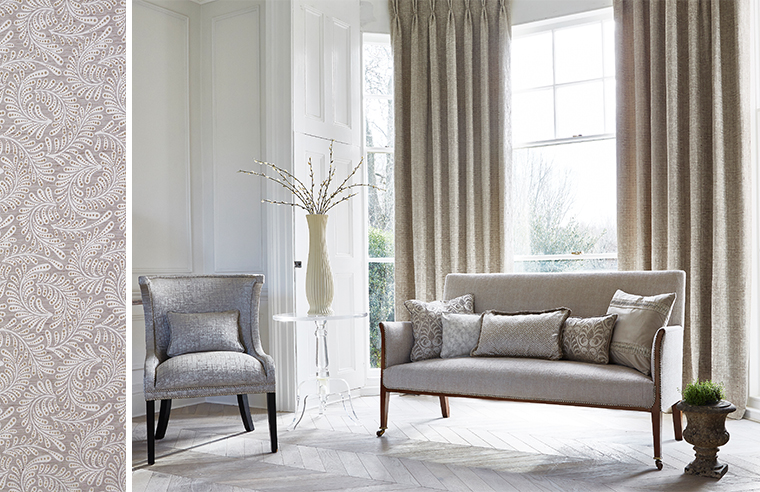 Often seen as a focal point within our spaces, the finishes we choose for our windows should complement and emphasise our living room schemes, reflecting current trends and even our personalities.
Learn to express yourself and incorporate the latest interior trends through your window spaces, whilst enjoying a striking balance between style and function. Whether a vibrant roller blind, opulent Roman blind, or functional Venetian, make your window treatments a key extension of your living room scheme. Start gathering ideas for a living area that entrances and inspires below.
Match your Window Dressing to your Furnishings or Accessories
For a balanced, trend-led look, coordinate soft furnishings such as scatter cushions or throws with your blind.
Utilise vibrant prints depicting tropical scenes or luscious palm leaves for an enveloping space brimming with character, or create a calming effect with on-trend florals finished in pastel tones. Select one or two colourways from your blind and present upon larger furnishings such as sofas or armchairs, creating further cohesion. Take it a step further and add in greenery or flora featured in your window dressing, incorporating potted palms, dried flower arrangements and towering blossom stalks. Or, why not match your blind and a statement armchair in a coordinating conversational jacquard for added drama?
Make your Window Space the Focal Point of your Room
Ensure your window remains the star of the show with pared back décor used elsewhere in a space.
Allow your window space to shine with maximalist designs such as whimsical prints depicting intricate scenes of nature or prowling tigers, to opulent jacquards that evoke an inherently elegant feel. Keep fabrics, colourways, and accessories pared back and allow your window dressing to set the tone. Bold, characterful blinds are ideal for living areas with limited space, where large expanses of pattern could feel overwhelming. Instead, express yourself and add a pop of character with a vibrant window treatment.
Coordinate a Blind and Curtains for a Cohesive Space
Not only are the two highly practical when paired together, but blinds and curtains can come together to create an eye-catching window setting that acts as a true extension of your living room style.
Invite depth and character into your space by combining the two, coordinating the colourways of your curtains with your blind. If opting for a patterned finish in one, choose a subtle plain design in the other to avoid overwhelming your space. With over 200 inspiring fabrics to choose from, our Custom Made Curtains are ready to complement both your blind and living area with effortless luxury, whilst being tailored to your unique specification and style.
Enjoy Form and Function with a Highly Versatile Window Treatment
For living areas where light control and glare reduction are key, consider a more functional blind that still coordinates effortlessly with your décor.
Enjoy a striking balance between style and functionality with a Venetian Blind. Whether looking to encapsulate the latest trends in your new scheme or you prefer a more traditional style, we have a slat and shade to suit every space. Look to the warmth of the natural grain of our Basswood Blinds, the added convenience of our PVC Faux Wood Blinds, or even the bespoke finish of our Custom Made Venetians. Alternatively, consider the sheer beauty of our Manhattan Day and Night Blinds for an on-trend solution to banishing the glaring summer sun. With 46 versatile designs and shades to choose from, Manhattan has a style for every living room.
Click here to discover our portfolio of window dressings for living spaces, or locate your nearest Stockist here
Discover our latest Pinterest board for more inspiration