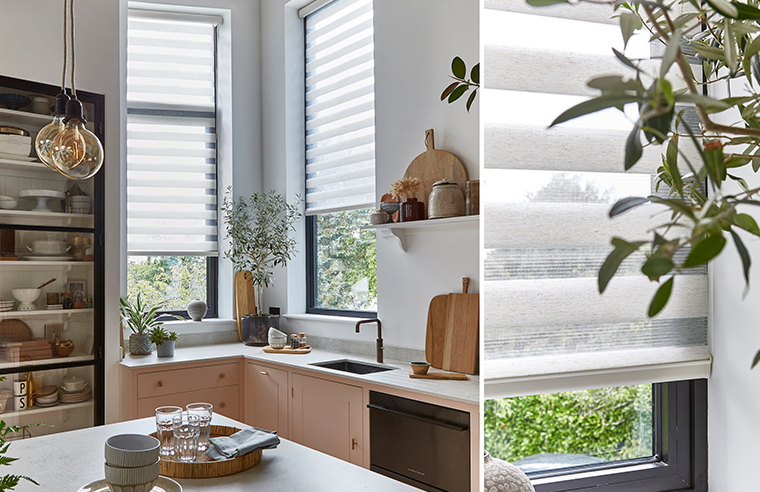 The much-anticipated arrival of British Summer time welcomes lighter mornings, brighter days, and sunnier skies. However, this also invites higher levels of glare and unwanted daylight into your home, assigning your blinds a crucial role in maintaining a comfortable, glare-free space.
While we all want to embrace the warmer weather and summer light in our homes, bright sunlight and harsh glare can become invasive. Therefore, having an effective blind in place is essential for diffusing sunlight and maintaining a comfortable glow all season. Say goodbye to glare and hello to comfortable lighting levels in a range of living areas, with our top tips and window dressings for diffusing the light.
Strike the Perfect Balance Between Shade and Summer Sun with Day and Night Blinds
Day and Night Blinds are perfect for diffusing light into your home. Providing the optimum balance of light control and privacy, two layers of voile and opaque alternating fabric glide over each other to control the intensity of light entering a room.
Roll your Day and Night Blinds completely away to allow daylight to flood your space. Alternatively, soften the light and introduce a degree of privacy by adjusting the sheer and opaque strips in an alternating fashion, allowing them to regulate daylight entering your room. For a more sheltered, private space, switch the blinds to fully opaque, dimming the lights and providing welcome respite from the Summer sun. Instead, why not enjoy a happy medium of light and shade by rolling your blind halfway down? The options for diffusing the light with Day and Night Blinds are endless!
Look to the Versatile Slats of Venetian Blinds for a Comfortable Ambience
The horizontal, highly adjustable slats of Venetian Blinds provide an effective solution for regulating lighting levels in your space, allowing day-long comfort.
Adjust the slats in a number of different positions throughout the day to regulate the Summer sun, whilst enjoying the added benefit of privacy from the outside world. Cast in a manageable glow by simply positioning your slats upwards, or close the slats completely when strong daylight becomes too overpowering. For darker spaces, though, or to enjoy a sunnier day, pull your blind completely upwards and allow sunlight to flood in.
Add Motorisation to your Day and Night Blinds for Lazier Summer Days
Motorised Day and Night Blinds combine the best of both worlds: comfort and control. Achieve optimum levels of lighting, heat, and privacy from the comfort of your sofa.
Functioning via a remote control, effortlessly position your blinds at the push of a button. Carry on enjoying time out from your day and adjust your blinds how you like at all times, wherever you are in the room.
Diffuse the Light in a Range of Spaces within Your Home
With a multitude of finishes and configurations available, our window solutions for diffusing the light are suited to a range of spaces and scenarios.
Thinking of opting for a Venetian blind? Choose between the welcome warmth of our real Basswood Blinds or the bespoke elegance of our Custom Made Venetians, with the two offering a striking combination of style and functionality. A plethora of slat shades and tape options are presented within both collections, suiting both to a host of spaces and styles.
Ideal for light control in high moisture areas such as kitchens or bathrooms, our Faux Wood Venetian Blinds can also withstand fading from extensive sunlight, thanks to their durable PVC properties. Presenting 14 easy-to-use colourways and 21 ambient tape options, the collection simulates the elegance and style of our real wood Venetian options.
Alternatively, choose from 46 different options of Day and Night Blinds along with the option of a matching headrail in 6 coordinating shades, for a finish and style suited to a range of spaces.
Click here to discover our Manhattan Day and Night Blinds, or take a look at our range of Venetian Blinds
Locate your nearest Stockist here
Discover our latest Pinterest Board for more inspiration