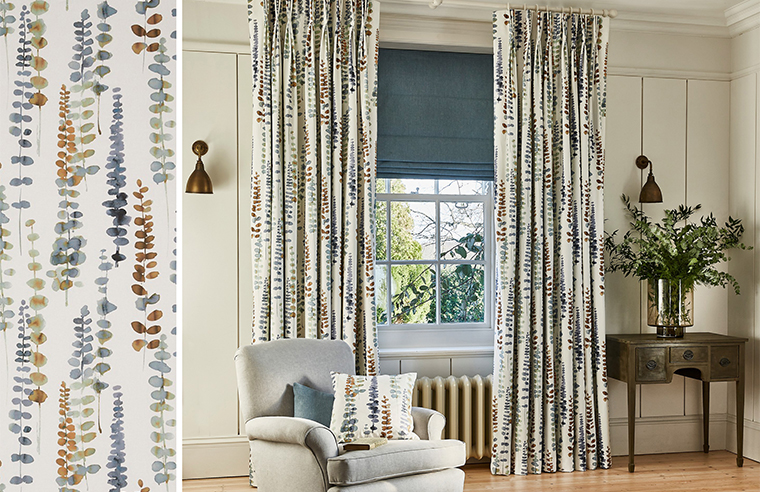 Striking the perfect balance between form and function, blinds and curtains combined can create eye-catching, practical window settings.
The way you dress your window space has a substantial impact on the aesthetics of your room, as well as heat, lighting levels, and privacy within your home. Why not double up on style and versatility when refreshing your space for the summer months, and combine blinds and curtains? Read on for our top tips on effectively combining both window dressings in your space.
Select Your Blind First, then Your Curtains
We recommend choosing the best blind for your space first, before selecting your curtains. For optimum light control, we would suggest a Venetian blind, with their highly adjustable slats allowing you to diffuse light into the room as you please. Our Faux Wood Blinds are ideal for their hard-wearing properties, whilst our Basswood Blinds and Custom Made Venetians are perfect for introducing a welcome warmth into your space.
Roller blinds and Roman blinds are also ideal for keeping the heat in, thanks to their fabric layers preventing heat from escaping. Roman blinds are especially effective at insulating your space when paired with a heat-retaining lining.
Choose a Curtain that Best Complements Your Blind
Curtains are the perfect addition to your window space, inviting depth and character into living areas when paired with a blind. Coordinate the colourways of your curtains with your blind, and if opting for a patterned finish, choose a subtle plain finish for your blind in a coordinating shade.
Available in over 200 inspiring fabrics, from bold geometrics and floral designs to versatile plains, all our Custom Made Curtains are expertly tailored to your unique specification. This includes 98 on-trend options within our new Library Collection of Custom Made Curtains, ranging from indulgent velvets and shimmering jacquards to simple plains that coordinate effortlessly with the collection's Roman Blinds.
Ensure Your Curtains Present Your Blind Appropriately
When pairing curtains with your blind, make sure they elevate your space and showcase your blind. Ensure they are also effective at keeping the heat in, or out. Opt for curtains that hang from above your window recess and are placed closely alongside your blind, sealing any gaps between the blind and window. Longer curtains will also create the perception of a much larger room, suggesting a taller ceiling and are therefore perfect for smaller homes.
Select a Lining that's Right for You
Stay cosy and cocooned by pairing curtains and blinds finished with effective, energy efficient linings. Both blackout and thermal linings are offered with our Custom Made Curtains, making them the perfect accompaniment to blinds for a warm, cosy, and private space. Combine with one of our Roman Blinds paired with our thermal lining, or one of our bonded interlinings, to truly banish the cold.
Click here to discover our portfolio of contemporary window dressings in full, or find your nearest Stockist
Discover our latest Pinterest board for more inspiration