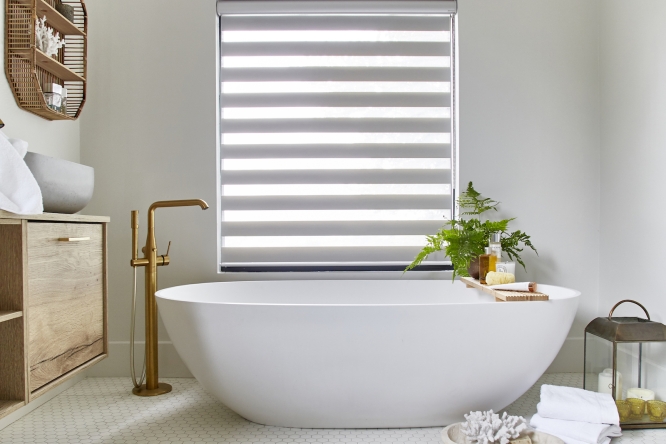 Practical yet stylish, window blinds offer the finishing touch to any room, and when done right, they can bring a whole décor scheme together. Although they're considered the icing on the cake, knowing which style to choose – and how they can improve your interior- can be difficult!
So, we're sharing our top tips for using blinds to enhance your space. From expressing your personality with bold, patterned fabrics, to embracing functionality with practical designs, discover how PT Blinds can help you create an inspiring interior.
Express Your Personality
Blinds don't have to be boring! They should be treated as an extension of your design scheme. As well as their ability to completely block out sunlight, Roman Blinds are a great way to express your personality. With an array of fabric designs to choose from, you can completely customise our Roman Blinds to suit your interior. From neutral jacquards for a more minimalist look, to bold maximalist velvets that make a statement (such as Bengal Tiger), there are so many fabrics to choose from.
Introduce On-trend Colours
An inspiring colour palette is at the heart of any great interior scheme. So, why not complete your décor with window blinds that complement – or even match – your paint colour. With an extensive selection of colourways to choose from, our Gallery Collection is sure to have a shade that works in harmony with your space. Drawing inspiration from the latest interior colour trends, the collection of wooden venetian blinds offers a range of 60 slat shades, all expertly chosen to reflect popular paint shades of the moment.
Go Contemporary
The shutter-like appearance of our Basswood and Faux Wood Blinds have made them the go-to window treatment for modern interiors. The contemporary Venetian blinds combine quality and functionality, offering a timeless finishing touch to interiors embracing minimalist trends, such as Loft Living. This style of interior design pairs modern accessories, industrial elements and stylish colour schemes to create a
clean and sophisticated space. Our Gallery Collection of bespoke wood blinds are also a great choice for open plan Loft Living inspired spaces as they're custom made to your specific measurements, perfect for any floor to ceiling windows.
Embrace Functional Design
As well as looking great, it's important to choose blinds that are functional in your space. Creating an interior that's stylish is one thing, however making your room practical will ensure it stands the test of time. Above all else, window blinds are supposed to regulate the light coming into a room, and our Manhattan Collection of Day and Night blinds offer both shade and light. These blinds are made up of 2 layers of voile and opaque alternating fabric, which glide over each other to control the intensity of light entering a room. This means you can close the blinds for privacy and shade and open them to allow natural daylight to fill the room.
Want to discover the PT Blinds portfolio in full? You can click here to view our full collections or find your nearest Stockist.